Well, now that our Renaissance Festival of Slurs and Slores has concluded with the traditional Saint STFU's Feast of the Orange Mongoose With a VERY Large Apple Stuffed in His Mouth for Obvious Reasons, we can now move on to the latest exciting news in Weirlandia, which is this announcement from Johnny yesterday on People.com:
"I'm going to record a song [called 'Dirty Love'] in May, just for fun. ... My main goal is to perform it at the VMAs. I want to come out on a little circle of ice from underneath the stage or something crazy like that!"
YES! Johnny at the VMAs! Singing! On ice!
OMG I DIE.
(Ashley, I have no idea how I even carried on a conversation with anyone before I met you. What words could I possibly have been using?)
The only thing that would make this even more OMG-worthy is if he was joined onstage by the cast of Glee. And BTW, don't we all think Johnny ought to be guest-starring on that show any minute now?
Anyway: Of course we have to wait a few months for this perfect storm of Johnny-ness to happen, so for now let us content ourselves with this simply glorious .gif, which is worth watching over and over--as I'm sure his video will be--whilst we ponder the possibilities of Johnny singing on ice at a clothing-optional event such as I hope the VMAs are this year...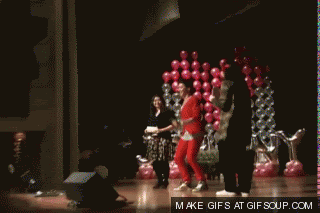 Let's also hope that there won't be some kind of weird Kanye-West moment during Johnny's rockin'-it-WAY-better-than-anyone-else VMA appearance.
Which reminds me: Where the hell is Kanye when you really need him? Like at the Olympics?
Just sayin'.
---
Please keep voting for Johnny
as "Most Addictive Reality Star"
in the NewNowNext Awards!
Vote
here
(he's the last one listed in the fifth category--
scroll down!)
or on Twitter
by constantly tweeting
#realityWEIR

.
Voting ends June 4, which gives us plenty of time
to get Johnny oh, say, ONE MILLION votes!
---
copyright 2010 / Binky and the Misfit Mimes / Lynn V. Ingogly / all rights reserved